Video Dragon-4121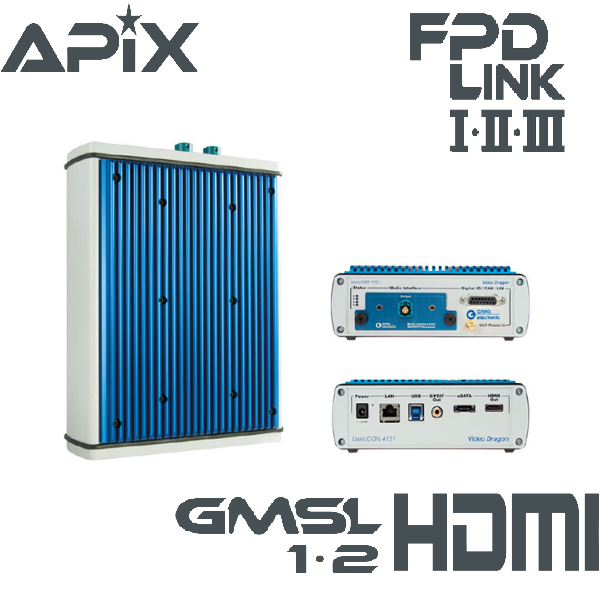 Video Dragon basicCON 4121 is a GOEPEL electronic GmbH test system with USB 3.0 and Gigabit Ethernet Interface to transmit or receive video data. The test system has been especially adapted to the requirements and transmission standards of the automotive industry. This way, in addition to the video data, also audio data and control data can be handled.
Video Dragon basicCON 4121 is a stand-alone device to be connected to a PC or laptop. It was developed for applications out of complex test systems.
The Video Dragon stands out by its easily changeable Media Interface Module, by that the system can be quickly adapted to current test tasks. So, the Video Dragon is transformed to a Frame Grabber from a Frame Generator or vice versa by a few actions only. Moreover, it supports a multitude of different transmission standards.
With this, the GOEPEL electronic Video Dragon is optimally prepared for executing present and future Test tasks.
The following performance characteristics make the Video Dragon to be an extremely multifunctional Video test system:
◆ High-Performance ARM Cortex A8 Processor with three Video Coprocessors
◆ 1 GByte DDR3 operating memory
◆ 128 MByte NAND Flash
◆ USB 3.0 and Gigabit Ethernet interfaces for control and data exchange with the PC
◆ HDMI 1.3 compatible Monitor output for checking the live stream of the video data, and with this also for the configuration of the entire test structure
◆ External SATA II interface to connect external mass storage devices
◆ S/PDIF Audio output for checking Audio data
◆ Media Interface Slot for inserting a Media Interface Module for the technical system adaptation to the test object
◆ Currently available Media Interface Modules support the APIX, FPD-Link, GMSL and HDMI standards for transferring video, audio or control data
◆ Universal, digital IO interface for triggering or status output as well as for the interaction with test objects
◆ CAN or LIN interface for configuration or restbus simulation of the test environment
◆ Status Visualization by four LEDs
◆ Real Time Clock for time synchronization
◆ -40°C … +65°C operating temperature range (with passive cooling)
Interface Type

Protocol Type

Chip Type

LVDS

APIX2

INAP375T

INAP375R

INAP375T MII

INAP375R MII

FPDLink II

DS90UB905

DS90UR906

FPDLink III

DS90UB913A

DS90UB914A

DS90UB925

DS90UB926

DS90UB947

DS90UB948

GMSL

MAX9247

MAX9248

MAX9259

MAX9260

MAX9271

MAX9272

MAX9275

MAX9276

HDMI

ADV7611